Description
Ukoliko Vam treba implementacija na Vasem specificnom sitemu/ANDROID|IOS aplikaciji Vas IT-jevac moze pogledati/koristiti ovaj Interaktivni implementacioni priručnik….
Ovaj dodatak namenjen je web prodavnicama. Njegova uloga je da integrise vas sajt sa ESIR resenjem naseg partnera koji je dalje vezan na VPFR poreske uprave (korisnici, kada su u produkcionom rezimu, dobijaju i pristup samom ESIR-u gde se mogu izvuci svi zakonom propisani dokumenti knjiga izdatih racuna i sl…).
Kako probati? – dodatak se isporucuje uz nase platne module (trenutno dostupno samo za WordPress/WooCommerce). U podesavanjima modula uneti probni PIB 000000000.
Preporucujemo njegovu upotrebu pogotovu ako:
imate puno prodaja pa se vreme koje Vi ili vasi zaposleni utrosite za izradu fiskalnih racuna ili provera tipa "a sta se sad radi u ovom slucaju" moze  iskoristi na daleko bolji nacin
imate veliku fluktuaciju zaposljenih pa je obuka za baratanje fiskalizacijom problem. Kod ovog dodatka nema potrebe da vasi zaposleni budu "previse obuceni" jer se za sve akcije sve referencira automatski, dodaju neophodne medju-akcije i njima ostaje samo da "kliknu" (ili sajt to cak i onako uradi sam ako je u automatskom rezimu). Potencijalne greske se sprecavaju i ispisuje se koji elementi ne nedostaju ili nisu ispravni.  Kod vecine ostalih resenja mozete poslati neisravni racun ili odraditi nepravilan sled akcija  jer je opste poznato da servis poreske uprave to ne sprecava sam. Kod ovog resenja se to ne moze desiti.
Dodatak ubacuje fiskalni interfejs u administratorski deo sajta.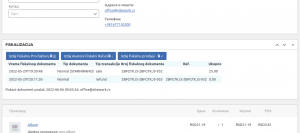 Iako su vam verovatno potrebni samo prodaja i storniranje, sve akcije su podrzane: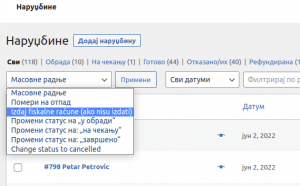 Fiskalizacija se moze vrsiti automatski – Vas sajt moze sam krerati fiskalni racun prodaje/storniranja ili mozete inicirati sve akcije manuelno na "klik".
Racun se moze isporuciti preko mail-a u html ispisu i PDF dokumentu. Moguce je slati posebne mailove ili ubaciti sadrzaj/prilog u standardne mejlove sa sajta.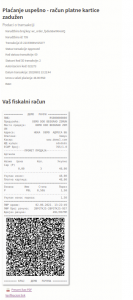 Dodatak se isporucuje u sklopu nasih modula za placanje (gde mu je i prirodno mesto rezidiranja). Posto se moze vrsiti fiskalizacija za sve ostale metode placanja ukoliko ne zelte da koristite i nasu metodu placanja, a zeilite fiskalizaciju onda mozete jednostavno sakriti metodu nasu placanja.
NAPOMENA: trenutno postoji poseban dodatak samo za WordPress/WooCommerce platformu. Za OpenCart, VirtueMart i Shopify dodatak ce biti dostupan kroz HolestPay sistem. Moguće su specifične integracije sa specijalozovanim sistemima.
Osnovna cena pretplate ukljucuje 700 fiskalnih dokumenata / mesec. Posle 700-tog dokumenata u mesecu, kreiranje fiskalnog dokumenta se naplacuje 1 RSD.
ESIR se izvrsava na serveru naseg partnera i u standarnom slucaju nema potrebe ni da znate sta je to osim ako vam je potrebna stampa knjige izdatih racuna ili sl… Postoji opcija da nas partnera postavi ESIR na vasem internom IT sistemu da bi bio vezan na LPFR. U tom slucaju neophodno je da imate Windows server (racunar) na kome se moze postaviti. U pitanju je .NET/MS SQL resenje. Upit poslati na office@holest.com
Besplatne licence: na zalosti nismo u mogucnosti da korisnicima koji potpadaju pod standardne kategorije kojima inace izdajemo potpuno besplatne licence na 1 ili 2 godine ponudimo isto u ovom slucaju jer je ovaj sistem realizovan u saradnji sa partnerskom firmom.  Umesto toga mozemo da umanjimo pretplatu za 40%. Kategorije: firme osnovane u prethodna 3 meseca sa jednim osnivacem (ili preduzetnik) – jedna godina. Ukoliko je u tom slucaju takodje osnivac/preduzetnik zenskog pola 2 godine. Verske/Humanitarne organizacije (koje nemaju ni najmanju politicku konotaciju/referencu) – bez vremenskog ogranicenja.